Salutare tuturor ,dupa mai mult timp m-am decis sa imi prezint si eu masina. Dupa cum scrie si in titlu este vorba despre un 330d e92 care m-a cucerit din prima. Cand am cumparat-o aveam 25.000km si acum am ajunsla 34.000km si ma bucur de ea mai ceva ca si in prima zi.
Model description:330d
Market: Europa
Type:KK71
E-Code: E92 (MUE)
Chassis:Coupé
Steering:links
Doors:2
Engine:N57D30O0 - 3,00l (180kW)
Drive:Heckantrieb
Transmission:automatisch
Body Color:Sonderlackierung (490)
Upholstery:Ind.erw.lederausst./champagner (ZACM)
Production date:16.03.2011
Assembled in:Regensburg
Code Standard Equipment
S459A Seat adjuster, electric, with memory
S502A Headlight cleaning system
S522A Xenon Light
S548A Kilometer-calibrated speedometer
S851A Language version German
Code Optional Equipment
S1CBA CO2 package
S1CDA Brake Energy Regeneration
S205A Automatic transmission
S217A Active steering
S230A Extra package, EU-specific
S2B6A
S319A Integrated universal remote control
S320A Deleted, model lettering
S322A Comfort access
P337A M Sports package
S358A Climate comfort windscreen
S403A Glass roof, electrical
S423A Floor mats, velours
S428A Warning triangle and first aid kit
S430A Interior/outside mirror with auto dip
S431A Interior mirror with automatic-dip
S441A Smoker package
S464A Ski bag
S470A Isofix-System
S481A Sports seat
S493A Storage compartment package
S494A Seat heating driver/passenger
S4AEA Armrest front, retractable
S508A Park Distance Control (PDC)
S521A Rain sensor
S524A Adaptive Headlights
S534A Automatic air conditioning
S544A Cruise control with brake function
S563A Light package
S5ACA High-beam assistant
S5AKA LED light elements
S609A Navigation system Professional
S612A BMW Assist
S614A Internet, preparations
S615A Expanded BMW Online Information
S616A BMW Online
S620A Voice control
S633A Preparation, mobile phone, Business
S688A HARMAN/KARDON SURROUND SOUND SYSTEM
S698A Area-Code 2 for DVD
S6AAA BMW TeleServices
S6ABA Control for Teleservices
S6FLA USB/Audio interface
S6NFA Music interface for Smartphone
S6VCA Control for Combox
S704A M Sports suspension
S710A M leather steering wheel
S715A M Aerodynamics package
S760A High gloss shadow line
S761A Individual sunshade glazing
S775A Headlining anthracite
P7HEA Connectivity Pack
P7R7A Innovation package
P7RSA Package Comfort
S7SPA Nav Professional/cellph. prep. Bluetooth
L801A National Version Germany
S879A On-board vehicle literature German
S8SCA Telematics access request,country-spec.
S8SPA Control unit COP
Individualausstattung
---- Steuerung Individual
Hinweisschild BMW Individual
0490 Sonderlackierung
Sonderlackierung "velvetblue-metallic", wie Schl. Nr. 379.
ZACM BMW Individual erweiterte Lederausstattung Champagner
Erweiterte Lederausstattung Merino champagner (Nr. 8 025 169):
- Modul Sitze mit Ablagenetz
- Modul Tuerverkleidung / Seitenverkleidung
Naehfaden in champagner (Nr. 2 237 191), Farb Nr. 0671 Z.
Steppzwirn in champagner (Nr. 2 237 192), Farb Nr. 0671 Z.
--------------------------------------------------------------------
Steppzwirn fuer "Sakkokappnaht":
Steppzwirn in navy blue RR (Nr. 7 072 179), Farb Nr. 3356 B.
--------------------------------------------------------------------
Nahtbild der Sitze vorne und hinten wie Sportsitz Individual.
Restliche Innenausstattung wie bei Leder Dakota schwarz,
Schl.Nr. LCSW.
0XE2 BMW Individual Edelholzausfuehrung Muschelahorn anthrazit
Dekorleisten in Edelholz "Muschelahorn anthrazit".
La achizite i-am schimbat uleiul Castrol cu filtre Mann si acuma dupa un an si aproape 10.000km ulei Bmw Twin power , filtre Mann si ceva furtunas de la carcasa filtrului de aer (care cica la doua schimburi de ulei se schimba pt ca ii proiectat prost)
Ce imi place: -suspensia M care nu ii exagerat de dura dar o face sa stea foarte bine in curbe
-motorul care trage si trag si suna suprinzator de bine pentru un diesel
-active steering-ul care ii precis si are cursa mai scurta
-LED urile din faruri
-sistemul audio HK
-scaunele care sunt foarte comfortabile pot conduce destul de mult pana sa ma omoare lombarii(problema la spate) plus ca ofera o sustine laterala excelenta
-trapa care nu era un must have dar ma bucur ca o am
Ce nu imi place:-culoarea pielii care ii foarte sensibila ,dar asa am devenit fanatic si la toamna o sa ii fac al treilea tratament cu leatherique
-manuta care iti intinde centura si o tot scapana
Ca si schimbari:-grile negre performance cele cromate erau din alt film
-jante de iarna pe 17 bbs sr infasurate cu vredestein wintrac xtreme normale no rft bullshit ambele noi
-eleron portbagaj pe producator ca sa imi fac o idee cum o sa arate, saptamana asta sper sa imi fie vopsit cel original
-saptamana viitoare evacuare dubla gen 335is la top gear longlife ,o sa fie un chin pana o sa treaca timpul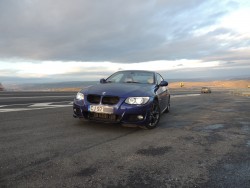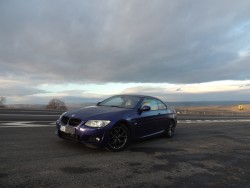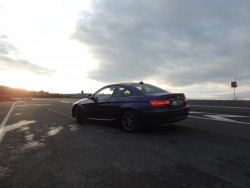 This post has been edited by sone: 31 August 2015 - 00:36